History and Context
Writing and Learning a Pioneer History
St. Elijah Museum seeks to be a gathering place for archival materials documenting and interpreting the role of the Bucovinian pioneers in Canadian history. On this page is a collection of resources that can help researchers, descendents and anyone who is interested deepen our understanding of this cultural history. Many books, images, search tools and other materials are available online and can be accessed directly from the site in their entirety. It includes:
The Library of Other Resources includes general information on Bucovina, Romania and the Ukraine, the Immigration of Eastern European Peasants to Canada, Prairie Peasant Architecture and Artifacts, and Music, Art and Dance.
Please contact us by or using our easy-to-use form in the contribute section if you have any stories, media (photographs, video or audio recordings), or references that would add to the materials made available here for .
Primary Resources
Primary Resources on the Bucovinian Pioneers
As in many pioneer communities, stories and events contributing to the local history of the Bucovinian pioneers of Manitoba were passed along verbally, from one person to another and from one generation to the next. This was especially true in communities where the early settlers were not sufficiently literate to record their experiences and observations in writing.

Fortunately, for the Lennard and Shell Valley communities, some local history was either written or passed along verbally by elders to their children who recorded it. Notable among these individuals were Nistru Onofercuic, who recorded some of the Lennard history in writing, and Agrapina Gabor, who had an exceptional memory and lived a long life. She related her stories, memories and names of most of the new immigrants to her daughter Maria Gabor who recorded these details for posterity. Another person with an amazing memory was Paul Galatiuk (see video in side bar) who recorded his personal experiences of living in the pioneer community in book form in later years.


Much of this material, plus other information obtained from descendents of the early pioneers, resulted in some of the history of the community being captured and put into written form for readers to marvel at and enjoy. Some of these documents are listed below. However, there is probably more material that will hopefully be discovered and brought forward to add to what now exists. Contact us by or using our easy-to-use form in the contribute section.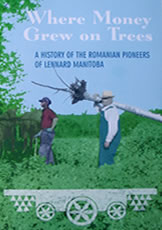 Cover of Where Money Grows On Trees: A History of the Romanian Pioneers of Lennard Manitoba
Local History
John Goodes, 2003, 212 pages.
The first comprehensive history ever written on the subject. This unique book is an intimate portrait of 100 years of Romanian ancestry in and around the Lennard community. It is a true people's history, a vivid record of how peasant immigrants adapted, survived and contributed to shaping the Canadian rural landscape.
Read excerpts from book (includes: cover, table of contents, 4 chapters & back cover) [ PDF file ]
John Goodes, 2010, 10 pages.
A historical overview of the development and decline of the hamlet of Lennard and the community of Shell Valley. Includes a historic map of the hamlet of Lennard.
Read full text... [ PDF file ]
Nistor Onofreiciuc, orginally published in Calendarul Credinfa (The Faith), Romanian Orthodox Missionary Archdiocese of America, Archimandritul Bartolomeu V. Anania si George Alexe, Detroit, Michigan, 1977. Republished on the Studii Româno-Americane web site.
A short account of the pioneers of the Lennard region which gives dates and names of the people who arrived from Bucovina, and gives details of the events related to their lives. Also gives historic information related to the church and spiritual life of the immigrants.
Read full text... [ In Romanian Only ]
John Goodes, 2008, 2 pages.
A short essay on a ghost town that was a thriving early settlement 3 miles from Lennard (link below). See also the Manitoba Historical Society Asessipi Townsite page with photos and documents, and these recent photos and these historic photos [ 1, 2, 3 ] of the town site.
Read full text... [ PDF file ]
J.G. Kippan (nee and the Russell Women's Institute, 1967, 272 pages.
An extensive and sometimes detailed history of Russell, Manitoba touching on themes such as agriculture, pioneers, churches, banks, businesses, schools, culture, etc. It also includes short essays on Asessippi (p.39), Boulton, Shellmouth and Silver Creek Municipalities, as well as family histories from all these municipalities. The focus is predominantly on English settlers, but also includes stories from other ethnicities including Bucovinian Pioneers such as Dominica Paulencu and Nestor Onufreiciuc (p. 173-174)
Read full text from Our Roots Web site...
Michael G. Toma, 1985, 179 pages.
This book is about Bucovinian immigrants to Alberta, rather than Manitoba and its focus is on pioneers who left the town of Boian (about 25km west of Voloka). However, the proximity and parallels between these old and new world places allows for many interesting connections to be made with the Bucovinian pioneers of Lennard, Manitoba. Never Far From Eagle Tail Hill presents numerous short family histories, mostly of people from the town of Boian, Bucovina, but some individuals from Voloka are also mentioned. In addition it gives a history of churches and schools in the community, and presents the Romanian pioneers' traditions of Christmas and Easter, as well as those of baptism, weddings and funerals. It presents a short text on the traditional Romanian pioneer house, and even offers a few recipes and musical notation of traditional songs. The book is well illustrated with historic photos and documents.
Read full text from St. Mary's Romanian Orthodox Church of Boian site...
Romanian/Ukrainian Pioneer Family Histories
Over the years many family histories have been written. These give personal insight into the Pioneer families of the Lennard area and how the ancestors of these evolved. If your ancestors are part of the Bucovinan immigrants who settled around Lennard and you have printed documents related to your family history we would be happy to make a PDF copy available here
For those who wish to investigate family genealogy please see the Genealogy Resources section below and Jim Ungrin's excellent Genealogy of the Bucovinian Pioneers of Lennard Manitoba: the Voloca Church Records
Written and compiled by Bruce Mintenco, with texts by various authors, 1993, 190 pages.
A collection of short biographies of the decendants of Petru and Agrapina Mintenci who emigrated from Bucovina, in 1912 and settled in the Lennard/Shell Valley districts of Manitoba. This family history is richly illustrated with historical and contemporary photographs, and includes a short history of the region in Romania from where they originate.
The Past is Our Future: Shell mouth - 100 Years (1908-2008), Boulton - 125 Years (1884-2009)
Various authors, 2008, 336 pages.
A collection of family histories as well as community histories and information on the history of area churches, schools and businesses
Portrait of our Past: Bezan Family Heritage
Jim Bezan with Thayne Pelletier, n.d., 212 pages.
Family history including a brief history of the old country with many photos, historic and contemporary.
Letters to Larissa
Paul Galatiuk, 2005, ? pages.
Family history.
Eilleen F.P. Lupastin, 1983, 384 pages.
Despite its meandering style, this hand-typed publication is full of valuable cultural and historic information, documents, statistics and insights. It's focus is on the background, arrival and assimilation of Bucovinian Romanian immigrants to Saskatchewan, particularly in Regina and Dysart, at the turn of the century. It also provides an overview of the history and culture of the Carpathian, Moldavian and Bucovinian regions, from ancient to modern times. Family histories for individuals living both in Bucovina and Saskatchewan with the following names are included: Lupastin, Lupastean, Hiutu, Surzu, Ursan, Petrari, Lonti, Petrariu, Irimescu, Petrar, Lupastian, Sturzu, Lupton, Lupastin and Brancescu.
Primary Historic Documents
St. Elijah Pioneer Museum, Karen Funk and Jim Ungrin, 2011, 108 pages.
Marco Zilinsci was a devoted lay priest to Bucovinian immigrant communities in rural Manitoba and Saskatchewan, around the beginning of the twentieth century, and later in British Columbia. The rituals he performed from 1899 to 1935 were recorded in rudimentary Romanian in a personal notebook, which has been transcribed and translated to facilitate your reading and help enrich your understanding of this important primary historical document.
The births, baptisms and deaths recorded in the notebook provide us with significant genealogical information; a number of these events are not officially registered anywhere, lost until now. It also holds historical information. The notebook speaks of the high birth and infant mortality rates in these early immigrant communities. And on occasion Marco provides us with anecdotal information that gives clues about the realities of pioneer life.
Names included in the document: Alexci [Olesky] ; Andony [Andoney, Andoni]; Anton; Antosh; Avram [Avram]; Axenty [Axenti, Acsenti]; Babiac [Babiuk, Babyak]; Barchuk; Barnetsky [Barnatsky, Bernatsky]; Bernaloski?; Boiciuc [Boychuk, Bojczuk, Boichuk]; Bordian; Buleziuk; Burla; Calancia [Calanchie, Calancea]; Carcia [Karcha]; Chopec [Chopyk]; Chorney; Circiluc [Kiriliuk, Kereliuk, Kereluk]; Cisiliuc [Kisiliuk]; Cocotailu [Kokotailo,Kokotilo]; Cohanuc [Kohanik, Kohaniuk]; Cosec [Kozyk, Kozak, Kuzyk?]; Costiuk; Cozariuc [Kozariuk]; Cretzul [Kretzul]; Cril [Krill]; Cuhur; Curchia; Custiniuc [Kosteniuk] ; Dari [Darry]; Dnihur; Dragomatz; Ducat; Federchuk [Fedorchuk]; Frasca; Fustai [Fushtey, Fustey]; Gibson; Gilcuic [Gilchuk]; Guraliuk [Guraluk, Goraluk]; Holunga; Husar; Hutuliac [Hutuliak]; Iftody [Iftoda, Eftody, Eftoda]; Ilasciuc [Elaschuk]; Ilasuc [Ilaschuk, Elaschuk]; Ilia; Ilie [Ilia]; Iremco [Eremko, Yaremko?]; Ivaniuk; Janson [Jensen, Johnson?]; Kassian; Kitch [Kitsch, Kitz, Kish]; Lesencu [Lisenko]; Levitci; Lupasca [Lupasko]; Maluic; Maneliuc [Manuliak, Manuliuc, Manuluk] ; Manial; Mankish; Markosci [Markosky, Markoski, Markowsk, Marcosci]; Martiniuc [Martiniuk, Marteniuk, Martenuk] ; Mereniuk [Merinuk, Meriniuk]; Morarash [Morash]; Moriar; Mostoway; Nasacziuc [Nassichuk]; Nassichuk; Nevistiuk; Niriuca; Olesky; Onufreiciuc [Onufreichuk, Onufreychuk, Onofrechuk, Onofreychuk]; Orisca; Osesky; Pantir; Paulencu [Paulenko]; Penteliciuc [Pentelechuk, Pentlechuk]; Petraschuk; Petriniac [Petruniak]; Pilestic [Peleshytyk?]; Pitz [Pitts, Peatz]; Plesciuc [Plisciuc]; Plissiuc [Plischuk, Polischuk]; Presniac [Presniak]; Prigi?; Prokopetz; Puritch [Puritch, Purych]; Pursega [Purshaga]; Repciuc [Repchuk, Rapchuk]; Romanciuc [Romanchuk] ; Romaniuk; Ropchan [Ropcean, Rupchan]; Rosca [Roska]; Rotar [Rotary]; Rurak; Sabatura; Saico; Salahub; Sarafinchan [Sarafincean, Sarafincian]; Sava; Savliuk [Savalek]; Sawchuk [Sauciuc]; Scraba; Screpenic [Scepnek]; Shullman [Sulman]; Starchuk; Strutz; Sturuc; Tkachuk [Tkatchuk, Katchuk]; Toderian [Toderan]; Todosichuk; Tokar; Trafananko [Trefanenko]; Unchulenko [Onchulenko]; Ungurean; Ursulak; Varvaruc; Versciuc [Verschuk, Werstiuk, Vistiuk?]; Viciaruc?[Wiwcharuk?]; Vichiaruc; Vicziaruc [Wiwcharuk, Vivchariuk]; Vilesciuc [Vilischuk, Vilishuk]; Vipruk; Vudvul; Wasilinchuk [Waselenchuk, Wasylenchuk]; Zilinsky [Zilinski, Zilinsci]
Library of Other Resources
RESEARCH TOOLS
The Our Roots web site is an ever-growing library, archive, museum and school of Canadian local histories, it includes thousands of full-text e-books.
The mandate of the Manitoba Historical Society is to encourage research and publications relating to the history of Manitoba, and promote and encourage public interest in Manitoba and Canadian history. This site is rich in historic documents, articles and other information related to all aspects of Manitoba history.
An online searchable database of documents held in the Manitoba Archives. Few documents seem to be digitized and available on the site, but it is a good research tool.
An immense collection of print, digital, photographic, media documents. Searchable.
Search the collections of participating archives, libraries, museums and universities from across Canada for images.
BUCOVINA, ROMANIA AND UKRAINE
An in depth history which describes the events and the culture in the village of Voloca, Bucovina–the village where the Lennard/Shell-Valley pioneers originated. It covers ancient times, to the 1930's and beyond, always contextualizing the village in local and world affairs. It is written by an amature historian Toador Ionică and was first published on the internet http://www.voloca.blogspot.ca/ by Mihail Onufreiciuc. It was tirelessly translated from Romanian by Jim Ungrin and is published by The St. Elijah Pioneer Church, Lennard, Manitoba, Canada. For Canadians it is valuable to learn more about their roots and to consider how their lives might have been different if their ancestors had not migrated to Canada at the turn of the 20th century.
General information about history, population, towns, etc.
Created by volunteers directed towards anyone interested in their Bucovinian ancestry. Full of information on genealogy, villages, customs and culture, maps, etc.
Antique book about the history of Boian, Romania in Bucovina.
This is a small hand-written book about the history of Boian, Romania (~25km west of Voloca). Written in 1930 expressly for the people of Boian, Alberta, who seem to have sent a similar document to Romania for their Buconvian ancestors. Romanian with an English translation at the end, it has many photos and is a most interesting read. It was dontated to St. Mary's Orthodox Church in Boian, Alberta by Ann Moscaliuk in 2005.
Modern History of Bucovina.
The chapter entitled "Bucovina: An Austrian Heritage in Greater Romania" in this academically praised book gives an excellent and well researched overview of the political history of Modern Bucovina. It speaks of the sometimes friendly, sometimes conflicting relations of the various ethnicities (Ukrainian, Romanian, Jewish and German), in an area unique in the Austro-Hungarian Empire for its ethnic diversity. Unlike elsewhere in Romania where Romanians were united under one political party, Bucovinian Romanians were active in several competing political parties, running the gamut from a "Free Thinking Union" formed of Ukrainian, Romanian, Jewish, Armenia, and German deputies (19, to social democrats, pro-Austrian Liberals, anti-Semetic Christians and irredentist Nationalists. The fortunes of these ethnic groups is chronicled in relation to changing political rulers from the 1918 to 1930 in the context of Romania's nation building efforts.
MUSIC, ART & DANCE
Audio files of Romanian carols
Listen to an impressive collection of Romanian Orthodox church carols on the Romanian Orthodox church site. Of particular interest to the Bucovinian pioneers are the collection titled ASCOR - Colinde din batrani (traditional carols), which includes O ce veste minunata (O What Great News) a carol that is remembered by the surviving grandchildren of the Bucovinian Pioneers.
St. Elijah Pioneer Museum encourages people with Bucovinian pioneer ancestors to research their family histories! We will do our best, but cannot answer all your inquiries. However, here are some resources that you can use. If you find any information you would like to share with others, please send it to us and we will see if we can find a place for it on the site.
Jim Ungrin offers his notes on how to interpret the four censuses that followed the arrival of the first Bucovinian pioneers to the Lennard, Manitoba region: 1899, 1901, 1906, 1916. He also includes a meticulous transcription of the information on many of the pioneer families in the region from each of the censuses.
This excellent essay by Jim Ungrin describes his genealogical research and provides instructions for reading Volocan birth and death records available from www.familysearch.org (see below). His focus has been on the Ungurian, Hlopina, Onufreiciuc and Penteliciuc families. But, the paper also includes a list of all the Lennard, Manitoba and area families for which he has found documented evidence of having originated in Voloca: the Antosh, Burla, Ceuca, Cohan, Georgetts, German, Gorda, Gorlick (2), Gudz (Goods), Holovach (2), Hlopina, Holunga, Manial, Mintencu, Onufreiciuc (4), Paulencu, Penteliciuc, Savliuk, Sadoway, Ungurean and Ursulak families.


*NOTE that this data is provided for your use and enjoyment. Anyone feeling they have gained substantially from it can show their appreciation via a donation to the St. Elijah Museum or Cemetery Funds.
A well conceived site that provides the names and photos of the tomb stones of over 300 parisioners who were part of the Romain pioneers who settled in Alberta at the same time as the Bucovinians of Voloca. Names include Iftody, Romenco, Toma, and many more.
Chasing the Clouds: Book Two, The Legacy by Grant Smith
A few chapters in this Anglo family history provide information about the Onofrichuks (Onofrychuk, Onofricuic, etc.) who came from Voloca, Bucovina. The other half of this family was named Hleucka. They may have touched on immigrant communities such as MacNutt, SK and Lennard-Shell Valley, MB. The author married an Onofrichuk and they live in southern Ontario.
---
Search census and other government records including an index of more than 200,000 naturalizations from 1915 to 1932. A powerful combined Ancestors Search combs everything from divorce records to land petitions to WWI courts-martial.
Post or answer questions about ancestors
For a small fee records from monumental inscriptions for over 1200 cemeteries within Manitoba can be ordered. The society also has a physical library with many valuable resources.
A loose collection of resources
Resources and records gathered by the Church of the Latter Day Saints (LDS) (The Mormons) which was able to visit many villages in Bucovina and were able to microfilm the original church records or copies deposited in other repositories. These records cover births, marriages and deaths recorded by the churches. This online resource provides an easy search tool and family trees.
A massive collection of hundreds of databases around the world, that allows you to search by specific database, country, date, category, or all the available data at once.