Plan a Visit
A Network of Historical and Recreational Attractions
In recent years, the Asessippi Parkland Tourism Region of Manitoba has seen the development of many new tourist attractions. The the big-sky prairie vistas with brightly blooming crops in the spring, calm pastures in the summer and swaying fields of barley in the fall are mixed in with many other natural features such as rivers and lakes, valleys and forests. This land was once home to the Plains Cree people who gave the area its name, Asessippi.
Each year people from all over come to visit to the beautifully maintained St. Elijah Pioneer Museum historical site, often as a part of a tour that takes in other attractions.
Below you will find information on:
We look forward to seeing you. If you do come to the area, don't forget to add your pictures to our Visitors' Gallery when you get back home ( us if you have pictures you would like to contribute and we will provide you with access to upload).
(Note: If your attraction is not listed below, please us and we'll see what we can do!)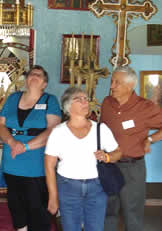 John Goodes giving tour of the Pioneer Church to group
Tours
Tours by Appointment
The St. Elijah Pioneer Museum does not have persons permanently on site to conduct tours or to enable individual visitors to tour the interior of the museum buildings. However, this has not proven to be a major problem in the past. For bus tours or larger groups, this situation can be managed by arranging in advance by telephone or e-mail for a tour guide to be present. This advance notice system has worked well in the past and has resulted in many successful visits by larger groups and bus tours. Members of the museum love to have visitors and will go out of their way to make the visit interesting and enjoyable.
What to expect from a tour
With tours arranged in advance, the museum will try to obtain an experienced tour guide who will open the tour with a short historical presentation. This will indicate to the visitors what they will be seeing and how it relates to the history of the community. This is held in an indoor setting and would usually take about 20 minutes. The visitors are then taken along the paved walk where plaques tell the story of the site's early history and list the names of some of the early pioneers, and then leads to the St. Elijah Romanian Orthodox Pioneer Church and St. Elijah Bucovinian Pioneer Cemetery. The group will then walk to the Paulencu House and explore the former home and its contents from the pioneer era. Following that, the visitors are encouraged to walk around the immaculate grounds and cemetery and take photos or have lunch at the picnic tables.
Booking tours
All tour enquiries should be directed to (204) 564-2228 by telephone or to by e-mail. The longer the advance notice the better. For larger groups and bus tours, please make arrangements at least two weeks in advance. The museum appreciates a suggested voluntary donation of $5.00 per person to help in the costs of maintaining and expanding the facility.
Drop-in tours
Drop-in tours are somewhat more difficult to accommodate. It depends upon the availability of a tour guide on short notice or the presence of volunteer workers on site at the time. In any event, casual visitors are free to come and roam around the museum grounds and cemetery at their leisure and enjoy the relaxing atmosphere of the location. Picnic tables are available for anyone one visiting the site.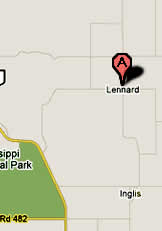 Inglis Elevators, 5km from St. Elijah Pioneer Museum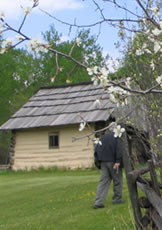 Negrych Homestead
Other Local Attractions
Manitoba Parkland Tourism List of Heritage Sites
What: A valuable site for all kinds of information about the Parkland tourist region of Manitoba in which the St. Elijah Pioneer Museum is located. Including art galleries, berry farms, churches, markets and more.
For more information: www.parklandtourism.com
Inglis Elevators National Historic Site
What: The only surviving row of five wooden grain elevators left standing in Canada. Built in the 1920s, these fully restored "sentinels of the prairies" are now an impressive National Historic Site located in Ingis, MB.
Location: Inglis, Manitoba, 5km south of the St. Elijah Museum
For more information: www.ingliselevators.com
Keystone Pioneer Museum
What: Museum features many historical agriculture implements and tools, in addition to numerous buildings with themed rooms. Visit three historical buildings. Open May through September.
Location: SW 7-26-27W, Roblin, Manitoba, about 35 km north west of the St. Elijah Museum
For more information: call (204) 937-2979 or visit Keystone Pioneers Museum Inc. Roblin, MB. web site
Asessippi Town Site
What: Ghost town, now overgrown.
Location: can be accessed by going to R30 and walking down to the river, 10km west of the St. Elijah Museum
For more information : www.gov.mb.ca/conservation/parks/popular_parks/asessippi/info.html
Asessippi Provincial Park
What: Located on the east side of the 40-mile long Lake of the Prairies, Asessippi Provincial Park provides a variety of amenities and facilities for swimming, boating, picnicking, camping, and fishing.
Location: about 18 km west/south west of the St. Elijah Museum
For more information: www.gov.mb.ca/conservation/parks/popular_parks/asessippi/info.html
Asessippi Ski Area and Resort
What: The picturesque Shell River valley provided the natural setting for this somewhat unusual attraction in a prairie environment. Its 25 down-hill runs, three chair lifts and an alpine-style village attracts thousands of skiers, snow boarders and snowmobilers from Manitoba, Saskatchewan and USA each year. In the summer, visitors can enjoy river tubing, eurobungy and other sports.
Location: about 10 km west/south west of the St. Elijah Museum
For more information: www.asessippi.com
The Frank Skinner Arboretum
What: The Frank Skinner Arboretum Trail and a number of special gardens including the Skinner Introductions Garden seek to highlight the special role played by Dr. Skinner in introducing and developing a wide variety of species and varieties that have been adapted across North America and even Europe. This natural legacy runs through mature stands of deciduous and coniferous trees and leads to a heritage rose garden, a perennial garden and past historical structures from the days when the Skinner Nursery was a unique source of hardy plants and trees for all of Canada and elsewhere.
Location: Located 31 Km north of Russell or 23 km south of Roblin, Manitoba on Highway 83, approx. 15km from the St. Elijah Museum.
For more information : www.skinnerarboretum.com
Negrych Ukrainian Homestead
What: This farmstead was developed between 1897 and 1910 by Wasyl and Anna Negrych and their children. It possesses the oldest known residence in Manitoba built in the Ukrainian vernacular tradition, as well as the most complete set of original pioneer-era farm buildings.
Location: Near Gilbert Plains, Manitoba, about 80 km north west of the St. Elijah Museum
For more information: contact the Gilbert Plains Historical Society, 204-548-4448, Box 662, Gilbert Plains, MB R0L 0X0. Virtual Museum of Canada Info
Canadian Orthodox Pioneer Museum
What: Restored 1926 Russian Orthodox Church and museum with exhibitions depicting early Slavic immigrant life. Tours in summer.
Location: First Avenue SW., Sifton, Manitoba. About 127 km north west of the St. Elijah Museum
For more information: 204-655-3224, 204-655-3481 Pamphlet
The Assiniboine - Qu'Appelle Valleylands Tours
What: The Assiniboine - Qu'Appelle Valleylands which takes in the area around the St. Elijah Pioneer Museum is an 11,000 square kilometre adventure and discovery region in the heart of the Manitoba and Saskatchewan prairie and Aspen Parklands. They offer a exceptional series of thematic self directed tours (settlement, agriculture, First Nations-Metis fur trade, nature and arts). The tours are well thought out and take in many hidden historic, cultural and naturalist gems. Maps and guidebooks are available. St. Elijah Pioneer Museum is included in the Tours/Settlement Tours/Follow the Path of the Settlers driving tour.
Location: The region surrounding the St. Elijah Museum.
For more information: www.valleylands.ca/english/tours.html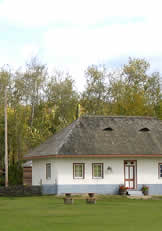 Romanian Pioneer Museum, Boian, Alberta
Bucovinian Pioneer Historic Attractions Beyond Manitoba
Romanian Pioneer Museum, Boian, Alberta
What: In 1992 the Canadian Romanian Society of Alberta opened the Boian Museum, which includes a restored house constructed in the typical Romanian style. The house, built in 1915 by Stefan Semanovitch, belonged to Lazar Fedorak and wife Anna (Sandulac) both immigratd to Canada from the Village of Boian in Romania, which is about 20km west of Voloca in the province of Bucovina.
The Web site was updated in 2013 and is very active. It has historical photographs from Bucovina and the Boian area, family histories, music and information on the museum.
Location: Near Willingdon, Alberta, 900km north-west of the St. Elijah Museum
For more information: www.boianalbertamuseum.com
Visitors' Photo Album
Land and Skies Photo Album